This page contains downloadable items mentioned in Amateur Gemstone Faceting. Turn to the associated chapter and page to learn more.
To assist you in determining correct index settings for any gem outline. See Chapter 17.3.2 and page 275 of Volume 2.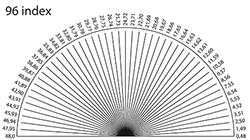 To help identify the appropriate symmetry for an OMNI gem outline. See Chapter 17.4.2 and page 290 of Volume 2.
Index Wheel Transposition Tool
An elegant and useful device for transposing a gem to a different index wheel. See Chapter 10.7.1 and page 38 of Volume 2.
GemCAD file of SRB.GEM from Chapter 10.6.1 (page 24 of Volume 2), and a PDF version of the "inside-out" Skew Tube prescription for saving rough from Chapter 19.2.6 (page 356 of Volume 2).
Microcontroller code for your homebuilt digital angle encoder. See Chapter 20.8.5 (page 404 of Volume 2) and a description of the "Mark II" encoder on page 414 of Volume 2.